WHITE PAPER


The Benefits of Fintech Enablement
New Strategies for Scalable Innovation
In this report, you will discover:
The drivers and implications of change in banking and finance
How generational shifts in customer expectations impact innovation
Why core modernization is not a complete solution to innovation
How fintech enablement is transforming banking and finance innovation
The 5 key components of a fintech enablement platform
Download the white paper to learn more.
What is A Fintech Enablement Platform?
What is A Fintech Enablement Platform?
A fintech enablement platform is a technology infrastructure that acts as an operating system to enable rapid and efficient innovation of digital products and services. Fintech enablement platforms are designed to reduce complexity and accelerate the launch, servicing, and expansion of financial solutions and new customer journeys. They include prebuilt and modifiable components that can be quickly deployed in a more agile and responsive method than most traditional development cycles.
Download our report to learn more about how fintech enablement platforms are transforming innovation for financial institutions.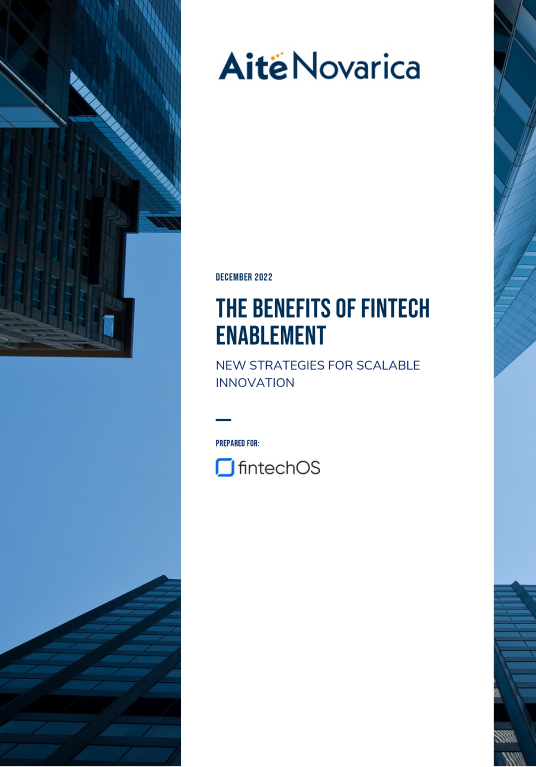 About FintechOS
FintechOS is the global leader in fintech enablement, with a mission to make fintech innovation available to every company. The FintechOS platform simplifies and accelerates the launching, servicing, and expansion of financial products and services, helping businesses recognize value up to 5 to 10 times sooner than with other approaches: with FintechOS, companies can get up and running with new financial solutions in as little as 12 weeks.
A global employer co-headquartered in London and New York, FintechOS customers range from globally strategic companies like Groupe Société Générale, Admiral Group, and BPCE Oney, to game-changing players like Vibrant, eMag, and Howden. Its partners include both niche consulting agencies and global consulting firms and systems integrators, including Deloitte, EY, and PWC.

About Aite-Novarica Group
Aite-Novarica Group
is an advisory firm providing mission-critical insights on technology, regulations, strategy, and operations to hundreds of banks, insurers, payments providers, and investment firms—as well as the technology and service providers that support them. Comprising former senior technology, strategy, and operations executives as well as experienced researchers and consultants, our experts provide actionable advice to our client base, leveraging deep insights developed via our extensive network of clients and other industry contacts.